Assalamualaikum wbt. :) alright, minggu ni saya ingin berkongsi pengalaman ke Cardiff dan Gloucester.
The main reason I went to Cardiff wasn't just for fun but to seek some knowledge ! Ok, ceritanya kat Cardiff ada program Wacana Perdana: Malaysia negara Islam atau Sekular? Antara teori dan Realiti..wooo kan tajuk die?hihi pastu on the way balik ke Sheffield,kami singgah di Gloucester utk find 'Hogwarts' perghhhhhhh!! jumpeeee kot!!!!! So first part, cerita ada apa kat Cardiff dulu
Cardiff

Amboihhh.... berbelit-belit lidah nak baca signboard kat cardiff. Luckily, ada member TESOL yg mampu nak baca, pronounce ayat-ayat kat signboard.Ujan rintik-rintik mase ni. Pastu kami lalu jambatan ala-ala jambatan Penang gitu. Sesampai je kami kat Cardiff, we'olls tersangatlah excited! Kami teruih heading kat area uni untuk cari kat mana dewan ceramah. Next, we'olls pergi cari tempat makan. Ended up choosing Istanbul restaurant.p/s: anak tekak tak boleh terima 1 menu ni nama die prawn casserole.
Kendian, kami pi kat Sophia Garden. Jalan-jalan situ, amek-amek gambo. It was just a short trip. We didn't even enter the Cardiff Castle neither went to the museum. Lepaih ja amek gambo kat Sophia Garden, kami terus cari kedai souvenir. Mencari bukti kami dah sampai Cardiff...Tempoh yg amat singkat untuk explore the whole cardiff..tapi kire oklahhh..pasni tak tau bila nk mai lg
Malam wacana perdana
Rumah host yg tumpangkan kami tido
Car Boot Sales
Buku murahhhh! 50pence sahaja..lai2
Kalo korang nak mai Cardiff...I'olls cadangkan u'olls makan kat Cardiff Bay. Nama restaurant ni Spice Roots kat Dragon centre tak salah. Harga berpatutan dan buffet menunya tersangatlah yummmmmmmy! Ada starter, main course, dessert..perghhhhh..lapo plak dah T_T Indian Cuisine
Spices

Glouchester
Pastu tengahari kami bertolak balik. Otw. we'olls singgah Glouchester... Harry Potter Location Hunting... channnnn... tengok gambo kat bawah ni ihikkkk :p samekannnn?! Ni dalam Cathederal sebenarnya. Bahagian corridor.

Sumber gambo sendiri :D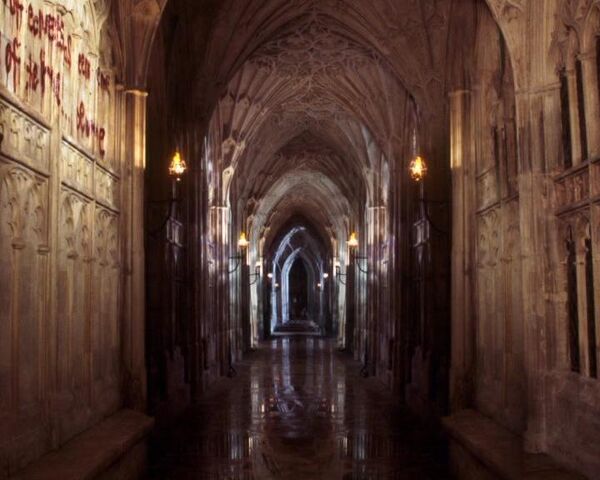 source HP & the secret chamber

Glouchester Cathederal
Jadi, tamatlah pengembaraan kami 2 hari 1 malam. Kami tiba di Sheffield sekitar 9pm.Total pengembaraan ini tak sampai £50 termasuk sewa kete eheee :p
Next stop: Malaysian Notthingham Games at University of Notthingham, where the Robin Hood belongs.